RECIPE: Chef Nino's Gnocchi with Sage Butter Sauce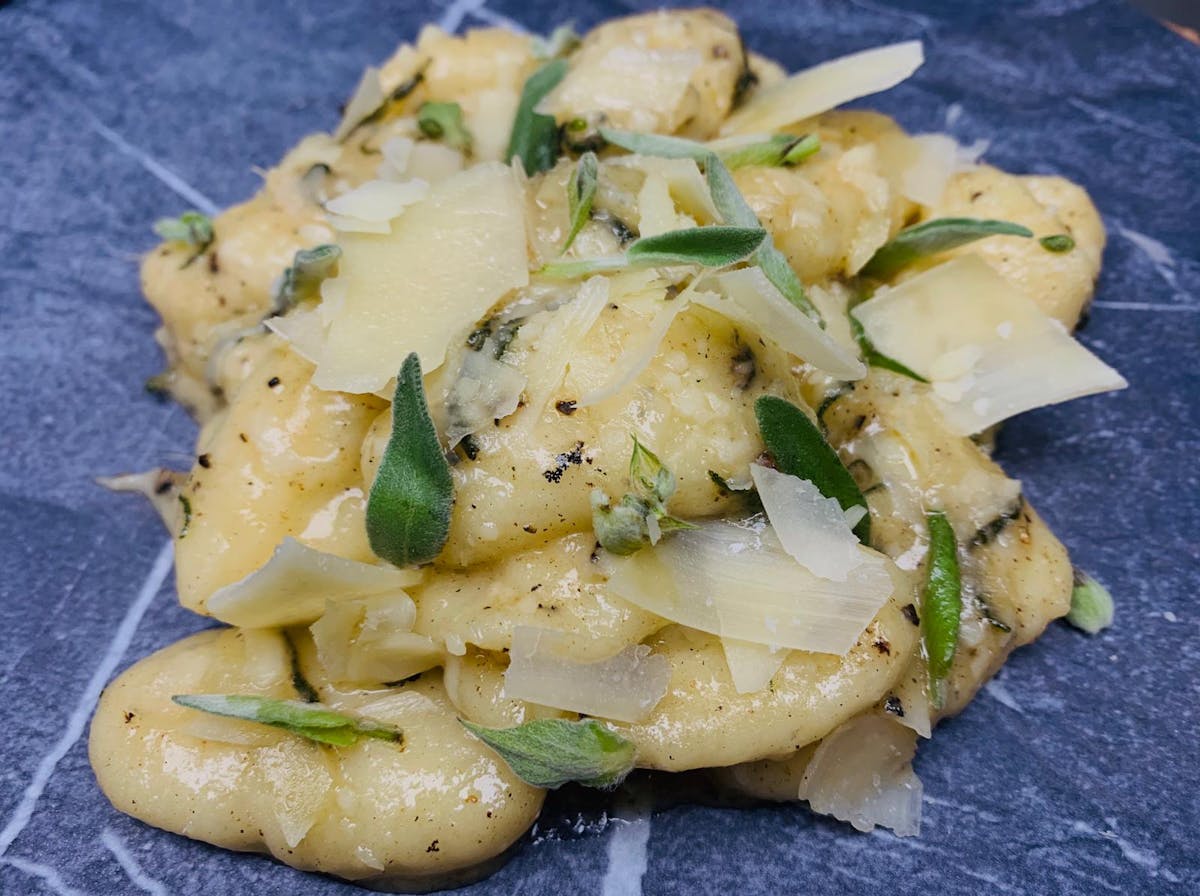 A classic in the art of pasta making, this dish by Head Chef Nino La Spina is inspired by the memory of sunny Sunday mornings spent in the Tuscan countryside near Pisa. This is where his grandmother first taught him how to make gnocchi, an unforgettable memory for him.
Serves 6
Prep Time 1.5 hours
Cook Time 20 minutes
Ingredients:
2½ pounds russet potatoes (about 4 large), scrubbed
1¼ cups all-purpose flour, plus more for dusting
2 teaspoons kosher salt, plus more
1 egg, beaten
4 tablespoons (½ stick) unsalted butter, cut into small pieces, room temperature
2 ounces Parmesan, finely grated, plus more for serving
24 sage leaves, chopped
Freshly ground black pepper
Instructions:
Cook potatoes in a large pot of boiling water over medium-high heat until tender when pierced with the tip of a knife, approximately 40–45 minutes, then drain.
As soon as potatoes are cool enough to handle, peel and pass through a potato ricer into a large bowl (if left to cool before ricing, potatoes will become gummy). Let cool.
Sprinkle 1¼ cups flour and 2 tsp. salt over potatoes and, using your hands, make a well in the center. Pour egg into the well and stir in with a wooden spoon.
Place dough onto a floured surface and gently knead, dusting with more flour as needed, until smooth, approximately 2 minutes (be careful not to overwork).
Divide dough into 8 pieces.
Roll each piece into a 24" long rope about ½" thick. Cut into ½" pieces, dust with flour.
Place a fork on your work surface and slide each gnocchi from the base of the fork to the end of the prongs in order to make a traditional decorative shape.
Arrange in a single layer on a lightly floured rimmed baking sheet.
Toss butter, Parmesan, and sage in a large bowl and place to the side.
Working in batches, cook gnocchi in large pot of boiling salted water until they float to the surface, approximately 2 minutes.
Using a slotted spoon, remove gnocchi from the water and gently place on top of the butter mixture as you go.
Once all gnocchi are cooked, add ½ cup cooking liquid and gently toss everything together, adding more cooking liquid as needed, until butter and cheese are melted and a creamy sauce forms.
Serve gnocchi topped with pepper and more Parmesan.