Main content starts here, tab to start navigating
Menus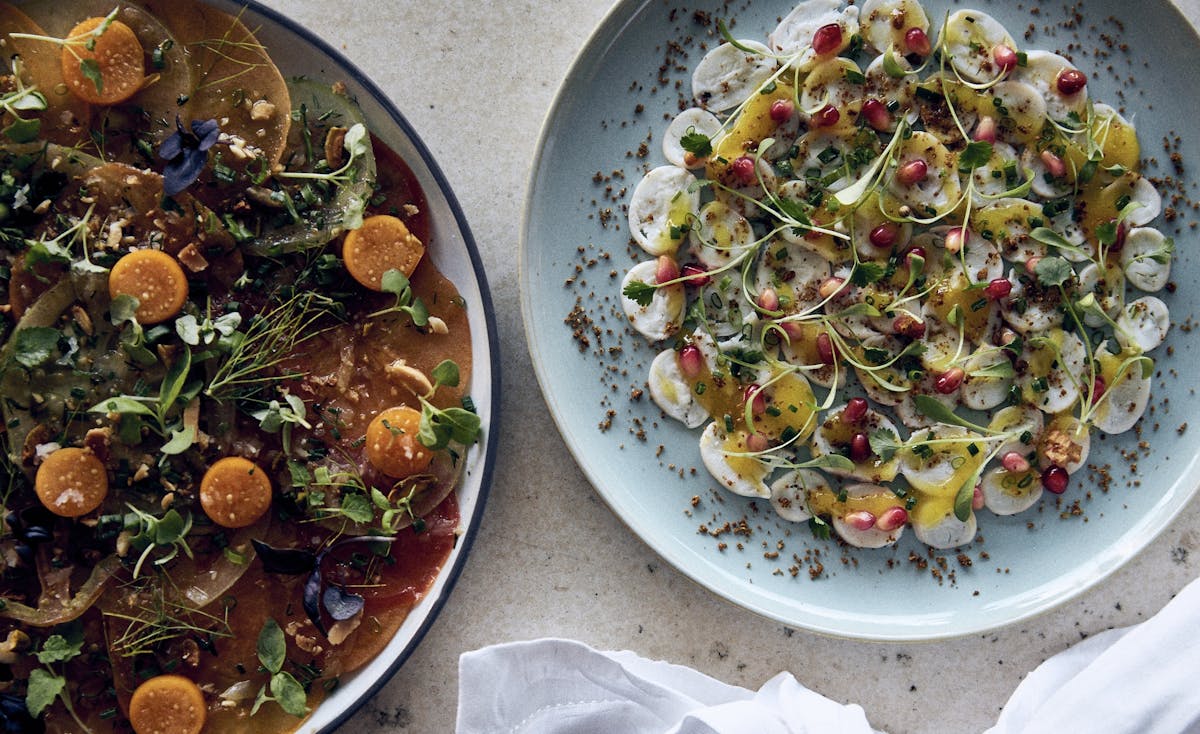 Breakfast Staples
HOUSE SMOKED SALMON

Toasted Bagel, Cream Cheese, Capers, Onions

$24

GOJI BERRY ACAI BOWL

Almonds, Granola, Coconut, Bananas, Blueberries

$20

HOUSE MADE GRANOLA

Walnuts, Almonds, Oats, Honey, Choice of Milk or Yogurt

$18

EXOTIC FRUIT AND GRANOLA BOWL

Serious Cow Yoghurt, Mango, Goji Berries, Chia Seeds, Passion fruit

$24

AVOCADO TOAST

Multi-Grain Bread, Avocado, Ricotta Cheese, Farm Greens Salad, Heirloom Tomatoes

$20

Add House Smoked Salmon $12

Add Two Eggs Your Way $10

FRUIT PLATE & HONEY YOGURT

Cantaloupe, Honeydew, Berries

$23
Classics
Steel Cut Oatmeal

Brown Sugar, Golden Raisins, Cinnamon

$15

Belgian Waffles

Banana, Chocolate Chips, Berries, or Plain, Vermont Maple Syrup

$20

Buttermilk Pancakes

Banana, Chocolate Chip, Berry or Plain Vermont Maple Syrup

$20

Thick Cut Brioche French Toast

Blackberries, Whipped Cream

$20
Eggs & More
TWO EGGS YOUR WAY

Breakfast Potatoes, Choice of Meat and Bread

$25

THREE EGG OMELET

Breakfast Potatoes, Choice of Bread

$26

EGGS BENEDICT

Toasted English Muffin, Poached Eggs, Canadian Bacon, Breakfast Potatoes

$28

HUEVOS RANCHEROS

Corn Tortillas, Beans, Tomatillo Salsa, Pico de Gallo, Sunny Side Up Eggs, Avocado, Cotija Cheese

$27

BREAKFAST BURRITO

Scrambled Eggs, Chorizo, Jack Cheese, Avocado, Black Bean Wrap

$28

HEALTHY BREAKFAST WRAP

Egg Whites, Spinach, Turkey Bacon, Cheese, Roasted Salsa, Guacamole

$26

BREAKFAST SANDWICH

Toasted Everything Bagel, Sausage Patty, Egg, American Cheese, Hashbrowns

$24
Florie's Specialties
MULTIGRAIN-GRANOLA PANCAKES

Blueberries & Bananas Maple Syrup

$24

CORNED BEEF HASH

Sunny Side Up Eggs, Crispy Potatoes, Horseradish-Hollandaise

$28
Sides

$8

Turkey Bacon

Apple Wood Smoked Bacon

Chicken and Apple Sausage

Pork Breakfast Sausage

Mixed Berry Bowl

Greek Yogurt

Buttermilk Pancake Short Stack

Fruit Salad

The Bakery

$8

Plain Croissant

Chocolate Croissant

Toasted Bagel with Cream Cheese Banana Nut Muffin

Toasted English Muffin

Fruit Danish
Specialty Beverages
LAVENDER LATTE

Espresso, Lavender Syrup, Steamed Milk

$17

LONDON FOG

Earl Grey Tea, Vanilla Bean Syrup, Steamed Milk

$17

TUMERIC GINGER LATTE

Turmeric, Ginger, Steamed Milk

$17

MASALA CHAI LATTE

Black Tea, Spices, Choice of Milk

$17

PUMPKIN SPICE LATTE

Espresso, Pumpkin Spice Reduction Steamed Milk

$17
Cold Pressed Juices
GREEN POWER

Cucumber, Apple, Kale, Romaine , Spinach, Parsley, Celery, Lemon

$17

PINEAPPLE X-PRESS

Pineapple, Apple, Mint

$17

METABOLIC LEMONADE

Lemon, Cayenne Pepper , Coconut Palm Nectar & Filtered Water

$17

ROOTED BEGINNINGS

Beet, Carrot, Apple, Ginger, Lemon

$17
Vegan Smoothies
BERRY BANANA SMOOTHIE

Strawberry, Banana, Protein, Beet, Cacao, Almond Milk, Almond Flaxseed*

$18

TROPICAL GREEN SMOOTHIE

Pineapple, Protein, Mango, Carrot, Wheatgrass, Barley Grass, Almond Milk*

$18

MAQUI SUPER FRUIT SMOOTHIE

Apple, Banana, Almond Milk Almond, Maqui Berry, Protein Blueberry, Flaxseed, Lemon Cauliflower*

$18

BLUE PINEAPPLE SMOOTHIE

Blue Spirulina, Coconut Milk Orange*

$18

*Made with Sacha Inchi Protein Dairy-Free, No Added Sugar Contains Nuts
Breakfast Bar
Classics
MIMOSA OR BELLINI

Orange Juice or Peach Puree Prosecco

$18

BLOODY MARY

Vodka, House-made Mix

$18

POMEGRANATE SPRITZ

Pomegranate, Aperol, Prosecco

$18

HORIZON

Blanco Tequila, Elderflower Lime, Honey Water

$18

OLD CUBAN

Dark Rum, Lemon Juice, Mint, Champagne

$18

COLD PINT

Cold Brew, Bailey's Foam, Frangelico Hazelnut Liquor

$18
Small Plates
Local Burrata

Pesto, Charred Baby Heirloom Tomato, Baby Arugula

$28

Riviera Salad

Seared Tuna, Anchovy, Olive Tapenade, Market Greens

$30

Skirt Steak $12

Kale & Green Apple Salad

Fingerling Potato, Spicy Vinaigrette

$25

Steak Tartare

Capers, Cornichon, Petite Salad

$29
From The Sea
Crudo Siciliano

Yellowtail Snapper, Shishito Pepper, Lemon Basil

$32

Florida Stone Crab

Sauce Dijonnaise, Lemon MP

Market Oysters

Half Dozen, Mignonette

$28

Sturia Ossetra Caviar 1oz

Classic Accoutrements, Blinis

$285
Stone Hearth Oven
Margherita Pizza

Mozzarella, San Marzano Tomato, Basil

$22

Diavola Pizza

San Marzano Tomato, Fior Di Latte, Salame Piccante, Aged Pecorino, Basil

$29

Brontese Pizza

Mozzarella, Mortadella, Pistachio, Ricotta

$34

Sicilian Eggplant Parmigiana

Basil, San Marzano Tomato Sauce

$28
Pasta
Spaghetti Alle Vongole

Florida Clams, Bottarga, Parsley

$44

Housemade Pasta

Fresh Tuna, Tomato, Pistachio Pesto, Olives, Anchovies, Capers

$32
Sandwiches
Ciabatta Ligure

Prosciutto Crudo, Stracciatella, Pesto Genovese, Baby Arugula, Olive Tapenade French Fries-

$26

Classic Beef Burger

Two-Year Aged Vermont cheddar, Nueske's Bacon, Lettuce, Tomato, Onion, Pickle House Sauce, Hand Cut Fries

$32
Entrées
Red Snapper Filet

Sicilian Eggplant Caponata, Olive, Pine Nuts, Herb Salad

$45

Local Grouper

Heirloom Tomato Carpaccio, Citrus Sauce, Dill

$46
Sundays from 12:00 pm - 2:30 pm
Meet us in Florie's for a quintessential Sunday Brunch in Palm Beach. Indulge in a mix of Florie's signature brunch favorites, interactive chef stations and dishes presented tableside, land to sea carving stations and end on a sweet note with a decadent dessert selection. Live music entertainment set to the backdrop of decadent ocean views.
$130 per adult
$65 per child under 12 years old
Prices exclude tax and gratuity
STARTERS
Seafood Station

Oysters, Shrimp, Cold Sauces

Cheese and Charcuterie

Imported and Domestic Cheese and Salumi, Artisanal Bread, Honeycomb

House Smoked Salmon

Heirloom Carpaccio

Sicilian Pistachio, Chive, Ginger Vinaigrette

Local Burrata

Red Onion Marmalade, Red Berries Vinaigrette, Black Tomato, Pistachio, Pine Nut
BREAKFAST CLASSICS
Omelet Station

Omelets and Eggs Made To Order

Waffles

Made To Order With Vermont Maple Syrup, Vanilla Whipped Cream

Rigatoni Arrabbiata
LAND AND SEA CARVING STATIONS
Beef Rib À La Broche

Carved to Order

Whole Roasted Green Circle Chicken À La Broche

Salt Crusted Salmon

Citrus and Herbs, Served Tableside

Wagyu Sliders
PIZZA & PASTA
Order Tableside
Margherita Pizza

Mozzarella, San Marzano Tomato, Basil

Genovese Pizza

Pesto, Parmigiano-Reggiano, Mozzarella

Rigatoni Arrabbiata
SIDES
Sweet Potatoes

Dates, Walnuts

Potato Mousseline

Glazed Carrots

Market Vegetables
DESSERTS
White Chocolate Mousse

Passion Fruit Sorbet, Passion Fruit Coulis

Gianduja Chocolate Profiteroles

Lemon Tartlets

Sicilian Pistachio

Baba au Rhum

Chantilly Cream

Guava Cheesecake Strawberries

Dulce de Leche Panna Cotta

Almond Streusel

Vanilla Bean Crème Brûlée

Berries

Assorted Macarons

Assorted Chocolate Truffles

51/50 Chocolate Bonbons

Served Tableside
Starters
Sturia Ossetra Caviar 1oz.

Blinis, traditional condiments

$285

Market Oysters

Half dozen, mignonette

$28

Tuna Tartare

Roasted tomato slice, mint oil, lemon-pistachio yogurt, pane carasau

$34

Red Caribanero Prawn Crudo

Kumquat vinaigrette, tapioca chip, mixed herbs

$44

Local Burrata

Ginger-apple vinaigrette, raisin, citrus, pickled butternut squash with Blue Mountain coffee scent

$28

Heirloom Tomato and Persimmon Carpaccio

Pistachio, chive, ginger vinaigrette, pickled vegetables

$24

'Cinco Jotas' Jamon Iberico

Tomato bread, pickled red onion, green tomato, jalapeno pepper

$32 per oz

Pumpkin Velouté

Ricotta ravioli, lemon, balsamic vinegar, pine nut

$26
Yakitori
Ora King Salmon

Parsnip, smoked butter, citrus, parsley oil

$36

Langoustine

Vegetable confit, sautéed squid, chorizo anchovy, sweet pepper, basil

$48

A-5 Japanese Wagyu Beef

Smoked paprika, red pepper, ginger, lemon

$90
Pizza & Pasta
Margherita Pizza

Mozzarella, San Marzano tomato, basil

$26

Genovese Pizza

Pesto, Parmigiano-Reggiano, mozzarella

$28

Black Truffle Pizza

Smoked scarmoza cream, Italian sausage

$46

House-Made Lobster Tagliatelle

Lobster bisque, tomato confit, basil

$48

House-Made Spaghetti All' Arrabbiata

San Marzano tomato, red Thai bird pepper, garlic, basil, olive oil

$28
Tandoor
New Zealand Lamb Shank

Sweet potatoes, dates, walnuts, black sesame sauce

$56

Charred Heirloom Carrots

Black mole, orange-ginger-coriander reduction, seed crumble

$34

Crispy Pork Belly

Spices, corn "au gratin" with chorizo, lime, Espellette pepper

$38
À La Broche
32-Ounce Creekstone Farm American Prime Tomahawk

Potato mousseline, broccoli, beef jus

$260

8-Ounce Beef Filet

Potatoes Dauphine, béarnaise sauce with peppermint

$75

Green-Circle Chicken Ballotine

Pistachio-Hazelnut Stuffing, Potato Mousseline, Ivory Sauce

$48
Stone Hearth Oven
Gnocchi "alla Sorentina"

Homemade gnocchi, tomato sauce, parmesan, mozzarella, basil

$28

Seared Local Grouper

Bok Choy, cilantro, yogurt, cucumber

$45
Vegetables
Steamed Broccoli

$14

Potato Mousseline

$14

Market Vegetable

$14

Sweet Potato

Dates, walnuts

$14
Truffle
Simply shaved over any dish
Italian White Truffle

Per gram

$35

Black Truffle

Per gram

$19
Desserts
Artisanal Cheese Board

Market selection, seasonal preserves

$25

Walnut Crumble

Orange blossom foam, date stone ice cream, walnut meringue

$18

Chocolate Fondant

Tonka ice cream, torrefied cocoa foam

$18

Vanilla Saint Honoré

'Diplomat' cream, caramel iced choux puff

$18

White Chocolate Mousse

Florida passion fruit sorbet, passion fruit coulis

$18

Exotic Texture

Mango, pineapple, passion fruit, coconut

$18
Dessert Wines
Brachetto D'acqui

Castello Banfi, Rosa Regale Piedmont, Italy

$15

Sauternes

Château Guiraud, Petit Guiraud Sauternes, Bordeaux, France, 2013

$16

Late Bottled Vintage Port

Taylor Fladgate, Douro Portugal, 2013

$17

Port

Fonseca Port, Terra Bella Organic Reserve Port, Douro, Portugal NV

$25
A love note to the coastal environments which inspire Chef Mauro Colagreco's nature-driven cuisine, enjoy our three-course prix-fixe menu with someone special this Valentine's Day.
$210 per person
AMUSE BOUCHE
Canapé Brioche

Ricotta Foam, Toasted Walnuts, Pear

Tartelette

Jerusalem Artichoke Purée, Caviar

Cucumber Cigar

Snapper, Yogurt, Coriander Syrup
APPETIZER
Gratitude Mushroom Velouté

Or

Roasted Beetroot Harlequin Salad

Olive Tapenade, Feta, Mustard
MAIN
Sautéed Scallops

Caramelized Cauliflower Purée and Raisin, Black Truffle Sponge

or

Beef Filet

Creamy Polenta, Aged Parmesan
DESSERT
Chocolate Raspberry Rose

Valrhona "Bahibe" Chocolate Mousse, Raspberry Compote, Vanilla Sable

Mignardise

Dulcey Espresso Truffle, Pistachio Cranberry and Honey Nougat, Strawberry Hibiscus Macaron, Chocolate Citrus Financier
Bar Menu served until 10pm daily, exclusive to bar and lounge.
Florie's Bar Food Menu
Signature Sharing Bread *

Lemon ginger olive oil

$12

Market Oysters

Half dozen, mignonette

$28 per half dozen

Artisanal Cheese Board *

Market selection, seasonal preserves

$20

'Cinco Jotas' Jamon Iberico *

Tomato bread, pickled red onions, green tomatoes, jalapeno peppers

$32 per oz

Tuna Tartare

Roasted tomato slice, mint oil, lemon-pistachio yogurt, pane carasau

$34

Local Buratta

Ginger-apple vinaigrette, raisin, citrus, pickled butternut squash with Blue Mountain coffee scent

$28

Margherita Pizza *

Mozzarella, San Marzano tomatoes, basil

$26

Genovese Pizza *

Mozzarella, pesto, Parmigiano-Reggiano

$28

Black Truffle Pizza*

Smoked scarmoza cream, italian sausage

$46

Seared Florida Snapper Fillet

Bok choy, cilantro, yogurt, cucumber

$45

Classic Wagyu Beef Burger *

Two-year aged Vermont cheddar, Nueske's bacon, lettuce, tomato, onion, pickle, house sauce, hand cut fries

$32

8-oz. Wagyu Fillet

Potato dauphine, béarnaise sauce with peppermint

$75
Desserts
White Chocolate Mousse

Florida passion fruit sorbet, passion fruit coulis

$18

Chocolate Fondant

Tonka ice cream, torrefied cocoa foam

$18
Happy Hour
Available from 5pm-6pm in the Bar & Lounge
Margherita Pizzette

Mozzarella, san marzano tomatoes, basil

$12

Market Oysters

Half dozen, mignonette

$12
AN ODE TO FLORIE'S HANDCRAFTED, FLORAL INSPIRED, GARDEN-DRIVEN COCKTAILS UTILIZING FLORIDA'S ABUNDANCE OF CITRUS AND THE VERSATILITY OF FRESH HERBS AND BOTANICALS SOURCED FROM OUR GARDEN
Florie's Seasonal Cocktails
Begonia

Bulleit Rye, Campari, Carpano Antica, citrus shrub, cold pressed pineapple

$25

Hibiscus

Bacardi Superior infused with hibiscus, soursop, cold pressed pineapple, lemon, citrus-habanero bitters

$23

Lavender

Belvedere, lavender syrup, Ramazzotti Rosato, lemon, fresh mint, butterfly pea flower, Prosecco

$25

Saffron

Botanist gin, Domaine de Canton, saffron pistil, cardamom

$24

Pomegranate

Casa Dragones Tequila, Cointreau, lime, pomegranate, jalapeno

$25

Borage

Hendricks, Saint-Germain, cucumber, dill, lime

$23

Passiflora

Vida Mezcal, golden falernum, lime, passion fruit, agave nectar

$24

Orchid

Woodford Reserve bourbon, Cocchi di Torino, clarified root beer cordial, sassafras bitters, vanilla bean

$31

Rose

Shishito-infused casamigos, grapefruit-fresno shrub, lime, three-pepper salt

$24

Juniper

Tanqueray 10, ginger beer, juniper berries, lime, mint

$25
Soft Cocktails
Basil

Blueberry-basil shrub, Ginger, Fever Tree club soda

$12

Citrus

Seedlip, citrus shrub, house made tonic water

$12
Happy Hour
Available from 5pm-6pm in the Bar & Lounge
Featured Sparkling Wine

$12

Featured Rose

$12