Main content starts here, tab to start navigating
Menus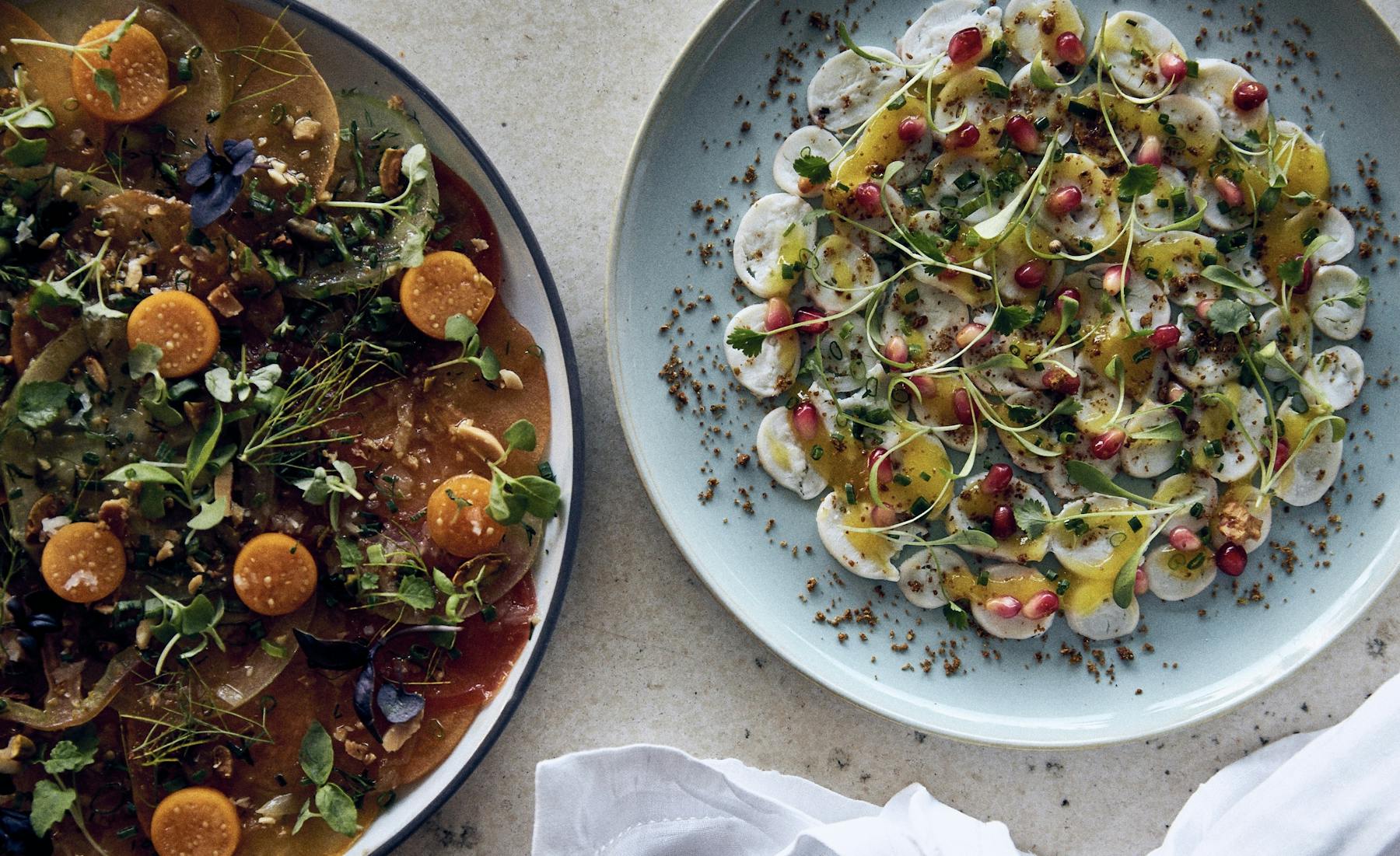 Sundays (9:00am - 12:00pm)
Please call (561) 582-2800 to order and arrange for curbside pick-up.
*Pre-orders are available.
Avocado Toast

Multigrain bread, local avocado, heirloom tomatoes, pierre poivre, ricotta cheese, radishes, side salad with olive oil dressing

$18

Add two eggs $8

Add smoked salmon $10

Three Egg Omelette

Breakfast potato hash, heirloom tomatoes, choice of breakfast meat, choice of toast

$26

Thick Cut Brioche French Toast

Caramelized bananas, blackberries, walnuts, maple syrup

$20

House Smoked Salmon

Toasted bagel, whipped cream cheese, capers, red onion, heirloom tomatoes, Boston lettuce, cucumbers

$24

Huevos Rancheros

Masa tortillas, refried beans, pico de gallo, Sun Fresh Farms fried eggs, crushed avocado

$24

Lemon Ricotta Pancakes

Key lime curd, berry compote, meringue

$22

Bakery Basket

Chef's selection of croissants, danish, and muffins

$24
Fridays and Saturdays (5:00pm - 8:30pm)
Please call (561) 582-2800 to order and arrange for curbside pick-up.
*Pre-orders are available.
Starters
Local Burrata

Florida citrus, coriander, golden raisins, Sicilian pistachios

$23

Heirloom Tomato and Peach Carpaccio

Sicilian pistachios, chives, Marcona almonds, ginger-vinaigrette

$21

Rangers Valley Wagyu Beef Tenderloin

Red pepper coulis, chives, house-made shallot vinegar

$33

Starter Special for February 19 & 20

SIGNATURE SHARING BREAD with Chef Mauro Colagreco's lemon-ginger olive oil

$12
Mains
Riviera Salad

Seared tuna, Swank Farm greens, market vegetables, hard-boiled egg, anchovy, olive tapenade, sherry vinaigrette, seeded sourdough bread

$28

Spaghetti all'Arrabbiata

San Marzano tomato, red Thai bird pepper, garlic, basil, olive oil

$31

New Zealand Lamb Shank

Sweet potato, dates, walnuts, black sesame sauce

$42

Creekstone Farms Beef Burger

Two-year aged Vermont cheddar, Nueske's bacon, lettuce, tomato, onion, pickle, house sauce, house-made brioche bun, French fries

$32

Main Special for February 19 & 20

KURABUTA PORK RIBS with potato mousseline, espelette, pork-lime jus

$38
Dessert
Lemon Tart

Meyer lemon curd, meringue

$16

White Chocolate Mousse

Florida passion fruit sorbet and coulis

$16

Dessert Special for February 19 & 20

BRONTE PISTACHIO PROFITEROLES with Sicilian pistachio diplomat, cardamom crème anglaise

$16
Cocktail Starter Kits
Each 375 ML bottle yields four to six cocktails. Alcohol not included.
Orange Blossom

Lemon oleo saccharum, citrus dust, herb-infused lemon ginger olive oil

$35

Suggested spirit: vodka, gin

Rose

Grapefruit-fresno shrub, lime, three pepper salt

$35

Suggested spirit: tequila, vodka

Marigold

Ginger-basil reduction, cardamom, saffron

$35

Suggested spirit: gin, bourbon
Waters
Sharing a selection of the finest waters sourced from around the globe to perfectly complement your meal.
USA

Bling H20, English Mountains, Tennessee (750ml still)

$10

Denmark

Iskilde (700 ml still)

$12

Germany

Gerolsteiner (750ml sparkling)

$12

Italy

Solé (1L sparkling)

$15

Spain

Vichy Catalan (1L sparkling)

$15

Canada

Berg (750ml still)

$30

Svalbard

Svalbardi (750ml still)

$110