Main content starts here, tab to start navigating
Menus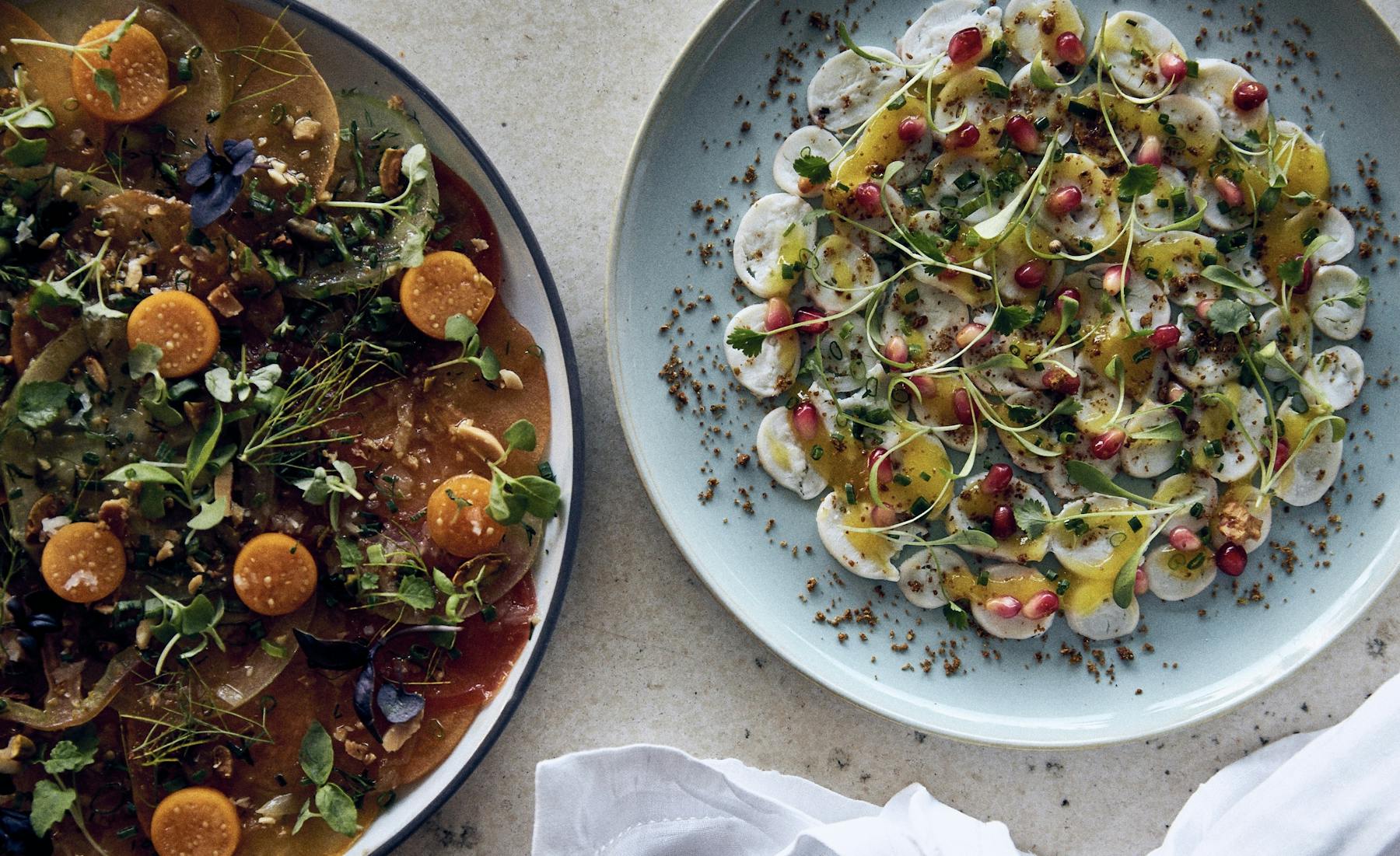 Breakfast Staples
House Smoked Salmon

Toasted bagel, whipped cream cheese, capers and onions

$24

Breakfast Tropical Fruit Salad

Coconut, Papaya, Mango

$16

Goji Berry Acai Bowl

Almonds, Granola, Coconut, Bananas Blueberries

$19

House Made Granola

Walnuts, Almonds, Oats, Honey, choice of milk or yoghurt

$18

Florida Avocado Toast

Multi grain bread, local avocado, heirloom tomatoes, ricotta cheese, pierre poivre

$20

Add House Smoked Salmon $12

Add Two Eggs Your Way $10

GREEK YOGURT AND BERRY PARFAIT

House Granola, Goji Berries, Greek Yogurt Chia Seeds

$20

MARKET TABLE

$49
Specialties
Steel Cut Oatmeal

Brown sugar, golden raisins, cinnamon

$15

Belgian Waffles

Banana, Chocolate Chips, Berries, or Plain Maple Syrup

$20

Buttermilk Pancakes

Banana, Chocolate Chip, Berry or Plain Vermont Maple Syrup

$20

Thick Cut Brioche French Toast

Side Whipped Cream, Vermont Maple Syrup

$20
Eggs
Two Eggs Your Way

Breakfast Potatoes, Choice of Toast

$25

Three Egg Omelet

Breakfast Potatoes, Choice of Toast

$28

Eggs Benedict

Canadian bacon, potato hash, heirloom tomatoes

$26

Eggs Florentine

Toasted English Muffin, Poached Eggs Spinach, Breakfast Potatoes

$25

Eggs Royale

Toasted English Muffin, Poached Eggs, House Smoked Salmon, Breakfast Potatoes

$28

Huevos Rancheros

Corn Tortillas, Beans, Tomatillo Salsa, Pico de Gallo, Sunny Side Up, Avocado, Cotija Cheese

$25

Breakfast Wrap

Scrambled Eggs, Potatoes, Ham, Bacon, Jalapeno, Cheese, Pico De Gallo

$28

Healthy Wrap

Egg Whites, Spinach, Maple Turkey Bacon, Cheese, Roasted Salsa, Guacamole

$26
Sides

$10

Chicken and apple sausage

Pork breakfast sausage

Breakfast potatoes

Apple wood smoked bacon

Mixed berry bowl

Greek yoghurt

Buttermilk pancake short stack

Fruit Salad

House Smoked Salmon $12

The Bakery

$8

Chocolate croissant

Toasted bagel with cream cheese

Banana Nut Muffin

Toasted English muffin whipped butter and jam

Fruit danish

Croissant with Butter and Jelly
Single-Origin French Press
Light Roast: Congo

Profile: Sweet, Plum, Blackberry

$15

Medium-Dark Roast: Bizzarri Blend

Profile: Molasses, Pecan, Banana

$15
Coffee Bar
Classics
Coffee

$8

Espresso

$7

Americano

$7

Macchiato

$7

Cappuccino

$9

Latte

$9

Flat White

$9

Mocha

$9

Cold Brew

$9
Teas
Herbal

Peppermint, Chamomile, Tangerine Ginger

$9

Black

Earl Grey, English Breakfast

$9

Green

Jade Cloud

$9
Breakfast Beverages
Lavender Latte

Espresso, Lavender Syrup, Steamed Milk

$14

London Fog

Earl Grey Tea, Vanilla Bean Syrup, Steamed Milk

$14

Tumeric Ginger Latte

Tumeric, Ginger, Steamed Milk

$14

Masala Chai Latte

Black Tea, Spices, Choice of Milk

$14
Cold Pressed Juices
Ginger Love

Purified Water, Lemon, Ginger, Pineapple

$16

Green Delight

Apple, Banana, Mango, Lemon, Kale

$16

Fuel

Carrot, Orange, Pineapple, Apple, Lemon

$16
Energizing Smoothies
Palm Beachy Keen

Banana, Strawberry, Protein Powder

$16

Soflo Sunshine

Acai Berry, Walnut, Orange Juice, Mixed Berries, Chia Seeds

$16
Breakfast Bar
Available after 9am
Mimosa

$18

Bellini

$18

Bloody Mary

$18
Starters
Local Burrata

Citrus salad, basil, coriander, raisins, Sicilian pistachio

$26

Heirloom Tomato and Plum Carpaccio

Sicilian pistachio, chive, ginger vinaigrette

$22

Florida Red Snapper Ceviche

"leche de tigre", red onion, celery, cancha corn, ginger, coriander

$24

'Cinco Jotas' Jamon Iberico

seeded sourdough, fresh grated tomato

$32 per oz

The Riviera Salad

Seared tuna, anchovy, olive tapenade, market greens

$28

Baked Clams

Lemon, parsley, pistachio

$20
Yakitori
Maine Scallops

Rice cream, spinach, lemon zest

$38

Faroe Islands Salmon

Shiitake, lemon, green peppercorn veal sauce

$36

Wagyu Beef

Red pepper, house-made shallot vinegar

$34
Pizza & Pasta
Margherita Pizza

Mozzarella, San Marzano tomato, basil

$26

Cetara Pizza

Anchovy, Taggiascha olive, lemon confit, cherry tomato, Mozzarella fior di late

$27

Diavola Pizza

Mozzarella, tomato, Napoli salami, pecorino

$28

Genovese Pizza

Pesto, Parmigiano-Reggiano, mozzarella

$28

Spaghetti All' Arrabbiata

San Marzano tomato, red Thai bird pepper, garlic, basil, olive oil

$26

Linguine Alle Vongole

Bottarga, parsley, lemon

$32
Tandoor
New Zealand Lamb Shank

Sweet potatoes, dates, walnuts, black sesame sauce

$56

Cauliflower

Florida preserved lemon, yogurt, buckwheat

$38
À La Broche
Green Circle Chicken

Green peas, Florida lemon, potato mousseline

$42

Creekstone Prime Dry-Aged Beef Rib

battered hand-cut fries, trio of sauces: black garlic, spinach, beef jus

$85
Stone Hearth Oven
Shellfish Cioppino

Clam, mussel, shrimp, langoustine, scallop

$48

Wild Florida Red Grouper

Fresh citrus, heirloom tomato, thyme

$44

Seared Snapper Fillet

Bock Choy, cilantro, yogurt, cucumber

$45

Salt Crusted Mediterranean Dorade

Meyer lemon, shellfish sauce, smoked tomato

$84
Vegetables
Steamed Broccoli

$12

Potato Mousseline

$12

Market Vegetable

$12

Sweet Potato

Dates, walnuts

$12
Desserts
Artisanal Cheese Board

Market selection, seasonal preserves

$22

White Chocolate Mousse

Florida passion fruit sorbet, passion fruit coulis

$18

Profiteroles

Piedmont hazelnut ice cream, chocolate sauce

$18

Mille-Feuille

Bourbon 'Chibouste' cream, caramel toffee

$18

Liquorice Pannacotta

Lime, cashew, pine nuts

$18
Dessert Wines
Brachetto D'acqui

Castello Banfi, Rosa Regale Piedmont, Italy

$15

Moscato

Michele Chiarlo, Nivole, Moscato d'Asti Piedmont, Italy, 2016

$15

Sauternes

Château Guiraud, Petit Guiraud Sauternes, Bordeaux, France, 2013

$16

Late Bottled Vintage Port

Taylor Fladgate, Douro Portugal, 2013

$17

Port

Fonseca Port, Terra Bella Organic Reserve Port, Douro, Portugal NV

$25

Vin Santo

Fèlsina, Vin Santo del Chianti Classico Tuscany, Italy, 2005

$35
Showcasing Chef Mauro Colagreco's global footprint, this prix-fixe summer tasting experience presents a menu without borders, paying homage to Florie's worldly spirit as we highlight a new Mediterranean destination each month. Florie's Discovery Menu offers an exclusive tasting experience of our favorite dishes.
$65 per person, excludes tax and gratuity.
To ensure the best experience, dishes from Florie's Mediterranean Summer menu cannot be customized.
FIRST

Heirloom Tomato and Plum Carpaccio
Sicilian Pistachio, Marcona Almond, chive, Ginger Vinaigrette
SECOND
Choice of
Seared Snapper Fillet
Bock Choy, Cilantro, Yogurt, Cucumber
or

Cauliflower
Florida Preserved Lemon, Yogurt, Buckwheat
THIRD
White Chocolate Mousse
Florida Passion Fruit Sorbet, Passion Fruit Coulis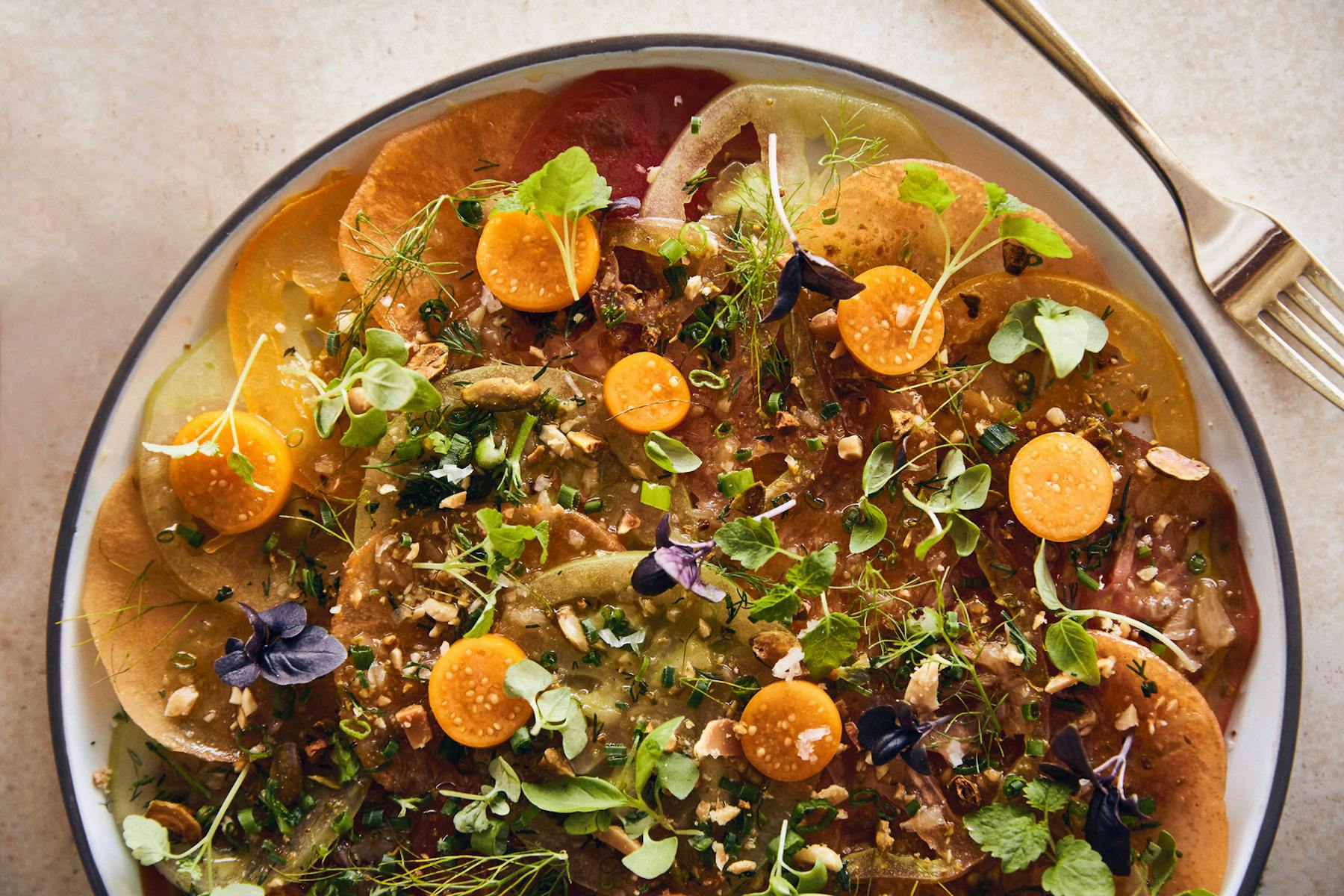 Slide 1 of 3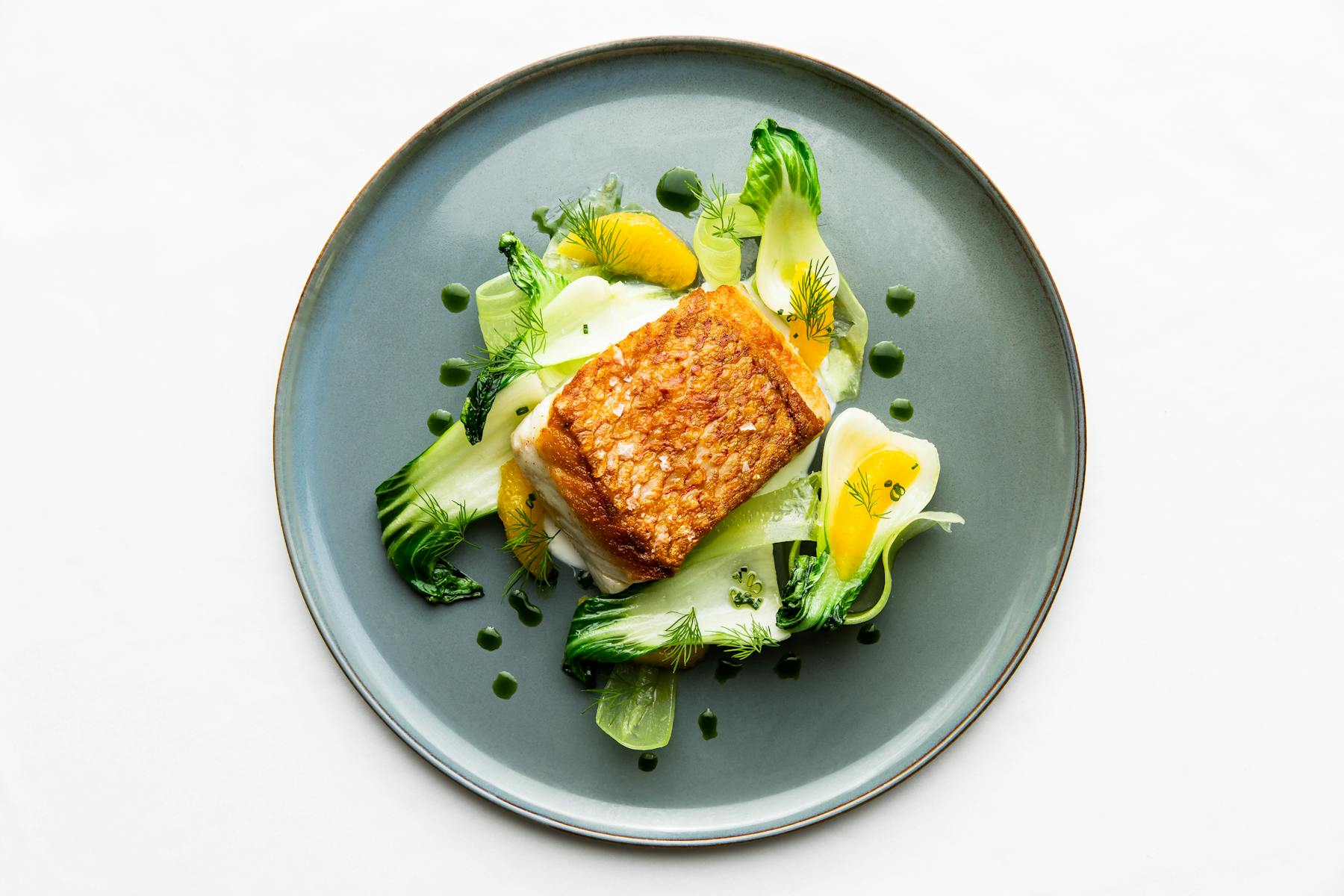 Slide 2 of 3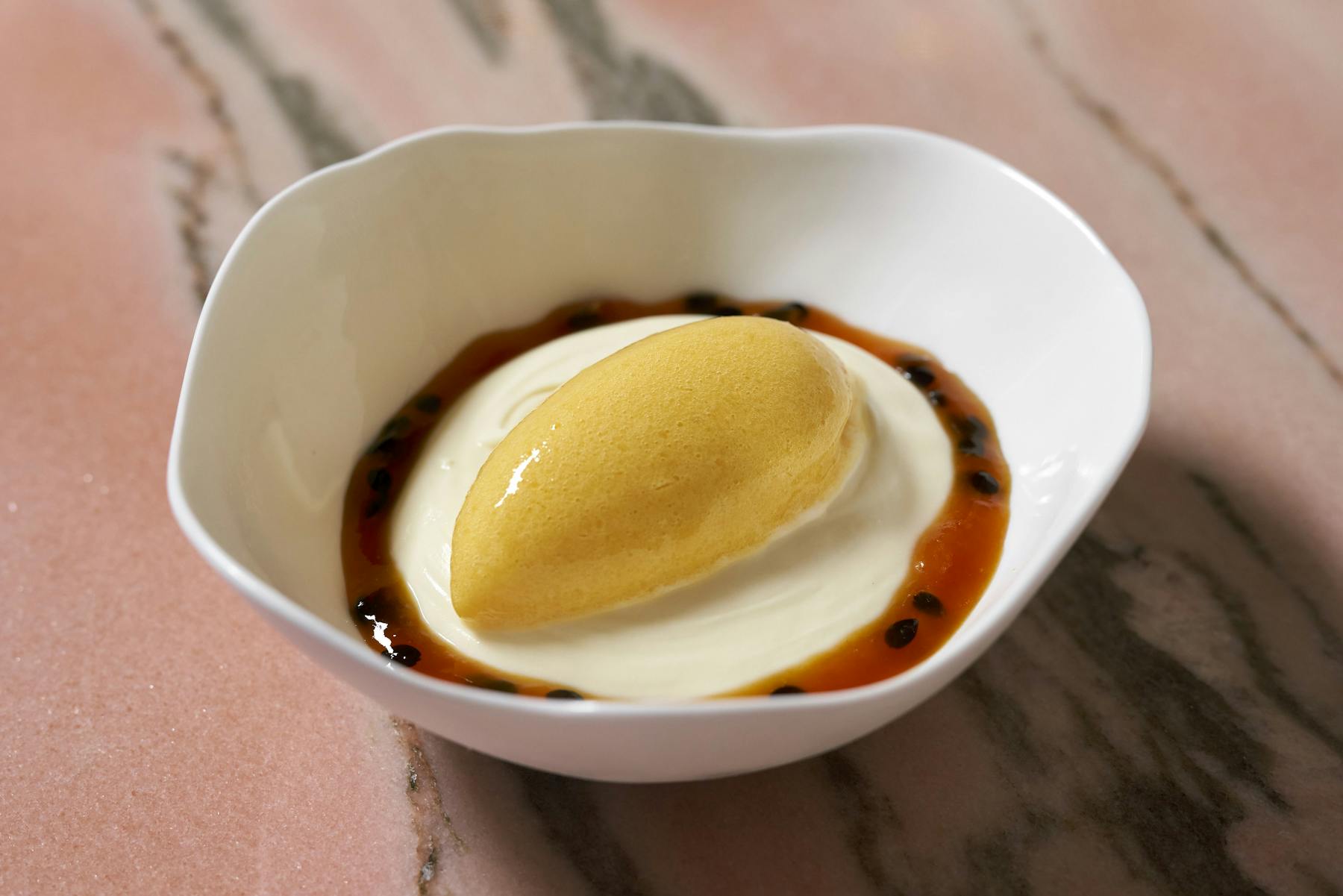 Slide 3 of 3
Bar Menu served until 9pm daily, exclusive to bar and lounge.
*Denotes items available until 10:30pm
Florie's Bar Food Menu
Signature Sharing Bread *

Lemon ginger olive oil

$12

Market Oysters

Shallot cream, pear

$28 per half dozen

Artisanal Cheese Board *

Market selection, seasonal preserves

$22

'Cinco Jotas' Jamon Iberico *

Seeded sourdough, fresh grated tomato

$32 per oz

Florida Red Snapper Ceviche

"leche de tigre", red onion, celery, cancha corn, ginger, coriander

$24

Baked Clams

Lemon, parsley, pistachio

$20

Riviera Salad *

Seared tuna, Swank Farm mixed greens, hard-boiled egg, olive tapenade, fresh vegetables, anchovy, xerez sherry vinaigrette

$28

Local Buratta

Citrus salad, basil, coriander, raisins, Sicilian pistachios

$26

Margherita Pizza *

Mozzarella, San Marzano tomatoes, basil

$26

Diavola Pizza

Mozzarella, tomato, Napolitan Salami, pecorino

$28

Genovese Pizza

Mozzarella, pesto, Parmigiano-Reggiano

$28

Cetara Pizza

Anchioves, Taggiascha olives, cherry tomatoes, mozzarella fior di late, olive oil, basil

$27

Classic Wagyu Beef Burger *

Two-year aged Vermont cheddar, Nueske's bacon, lettuce, tomato, onion, pickle, house sauce, hand cut fries

$29

Seared Florida Snapper Fillet

bok choy, cilantro, yogurt, cucumber

$45
Desserts
White Chocolate Mousse

Florida passion fruit sorbet, passion fruit coulis

$18

Profiteroles

Piedmont hazelnut ice cream, chocolate sauce

$18

Liquorice Pannacotta

lime, cashew, pine nuts

$18

Mille-Feuille

Bourbon 'chibouste', caramel toffee

$18
Happy Hour
Available from 5pm-6pm in the Bar & Lounge
Margherita Pizzette

mozzarella, san marzano tomatoes, basil

$12

Half Dozen Oysters

half dozen, shallot cream, pear

$12
AN ODE TO FLORIE'S HANDCRAFTED, FLORAL INSPIRED, GARDEN-DRIVEN COCKTAILS UTILIZING FLORIDA'S ABUNDANCE OF CITRUS AND THE VERSATILITY OF FRESH HERBS AND BOTANICALS SOURCED FROM OUR GARDEN
Florie's Seasonal Cocktails
Begonia

Bulleit Rye, Campari, Carpano Antica, citrus shrub, cold pressed pineapple

$25

Hibiscus

Bacardi Superior infused with hibiscus, soursop, cold pressed pineapple, lemon, citrus-habanero bitters

$23

Lavender

Ketel One, lavender syrup, Ramazzotti Rosato, lemon, fresh mint, butterfly pea flower, Prosecco

$25

Orange Blossom

Grey Goose Le Citron, orange citrus shrub, herb garden infused olive oil, orange dust

$23

Marigold

Monkey 47, Domaine de Canton, saffron-cardamom syrup, ginger, lemon, basil

$24

Dandelion

Fords, coconut infused Carpano Bianco, Luxardo Bitter Bianco, wildflower honey, bee pollen, egg white

$23

Orchid

Woodford Reserve bourbon, Cocchi di Torino, clarified root beer cordial, sassafras bitters, vanilla bean

$31

Violet

The Botanist, luxardo maraschino, creme de violet, lemon, butterfly pea flower, lavender bitters, egg white

Thistle

The Glenlivet 12, Amaro Montenegro, masala chai, apricot preserves, lemon

$24

Rose

Shishito-infused casamigos, grapefruit-fresno shrub, lime, three-pepper salt

$24
Soft Cocktails
Basil

Blueberry-basil shrub, Ginger, Q Spectacular, club soda

$12

Cilantro

Kiwi, cilantro, serrano, grapefruit Topo chico

$12
Sparkling
Prosecco

Masottina, Brut, Veneto, Italy, NV

$16

Cremant D'alsace

Lucien Albrecht, Brut, Alsace, France, NV

$15

Champagne Rosé

Moët & Chandon "Imperial", Épernay, France, NV

$36

Champagne

Moët & Chandon "Brut Imperial", Épernay, France, NV

$29
White
Sauvignon Blanc

Villa Maria, Cellar Selection, Marlborough, New Zealand 2017

$16

Sancerre

Yves Martin, Sancerre, France 2017

$25

Pinot Grigio

Castello Banfi, San Angelo, Tuscany, Italy 2017

$14

Chardonnay

Duckhorn Vineyards, Napa Valley, California 2016

$25

Riesling

Dr. Loosen, Dr. L Riesling, Mosel, Germany 2017

$15
Rosé
Rosé

Massaya, Bekaa Valley, Lebanon 2017

$16

Rosé

Château d'Esclans, Rock Angel, Côtes de Provence, France, 2017

$25
Red
Pinot Noir

Argyle Winery, Willamette Valley, Oregon 2016

$17

Pinot Noir

Jean-Claude Boisset, Burgundy, France 2013

$22

Malbec

Puramun Reserva, Valle de Uco, Mendoza, Argentina 2014

$15

Nero D'avola

Donnafugata, Sedàra, Sicily, Italy, 2016

$15

Cabernet Sauvignon

Altocedro, Año Cero La Consulta, Mendoza, Argentina 2017

$15

Cabernet Sauvignon

Trefethen Family Vineyards, Oak Knoll District, Napa, CA 2015

$25

Bordeaux Red Blend

Craggy Range, Te Kahu Gimblett Gravels Vineyard, Hawke's Bay, NZ 2016

$22
Spirits
Vodka

Classic

Absolut $13

Absolut Elyx $21

Belvedere $15

Chopin $15

Grey Goose $15

Hangar One $14

Ketel One $15

Stolichnaya ELIT $19

Tito's $14

Flavored & Infused

Absolut Citron $13

Grey Goose L'Orange $14

Ketel One Citroen $15

Stolichnaya Vanil $13

Gin

Beefeater $13

The Botanist $15

Bombay Sapphire $16

Hendrick's $16

Monkey 47 $26

Nolet's $15

Plymouth $15

St. George Botanivore $15

St. George Dry Rye $14

St. George Terroir $15

Tanqueray No. 10 $16

Tanqueray $15
Whiskey
Bourbon & Whiskey

Angel's Envy $16

Basil Hayden's $16

Blanton's $16

Booker's $19

Buffalo Trace $16

Bulleit $16

Four Roses Small Batch $16

Jack Daniel's $15

Jim Beam $13

Jim Beam Black $14

Knob Creek $18

Maker's Mark 46 $17

Maker's Mark $15

Michter's Rye $18

Wild Turkey $12

Woodford Reserve $18

Hudson Baby Small Batch $16

Nikka 12 Year $25

Nikka 15 Year $25

Rye

Angel's Envy $25

Knob Creek $18

Michter's $18

Rittenhouse Rye $15

Sazerac 6yr $16

Brandy

Cognac & Armagnac

Hennessy VSOP $20

Hennessy XO $35

Courvosier VSOP $18

Remy Martin 1738 $19

Remy Martin Louis XIII $225

Remy Martin VSOP $18

Fruit

Laird's Applejack $12
Whiskey
Clear

Buffalo Trace Mash #1 $15

Death's Door $15

Prichard's $16

Canadian

Canadian Club $14

Crown Royal $15

Irish

Jameson $14

Scotch, Blended

Chivas Regal 12yr $14

Chivas Regal 18yr $17

Dewar's White Label $13

Johnnie Walker Black $16

Johnnie Walker Blue $55

Scotch, Single Malt

Glenmorangie 12yr $17

Lagavulin 16yr $20

Laphroaig 10yr $16

Oban 14yr $18

St. George Single Malt $16

The Glenlivet 12yr $16

The Glenlivet 18yr $36

The Macallan 12yr $18

The Macallan 18yr $36

The Macallan 21yr $46

The Macallan Rare Cask $58
Rum

Appleton Dark $14

Bacardi 8yr $16

Bacardi Silver $14

Barbancourt 8yr $14

Captain Morgan $14

Gosling's Black Seal $14

Malibu $13

Mt. Gay Eclipse $14

Myer's Dark $14

Pyrat XO Reserve $14

Scarlet Ibis Trinidad $14

Smith & Cross Traditional $14

St. George Agricole $15

Zacapa 23yr $17

Diplamatico $15

Tequila & Mezcal

1800 Silver $14

Casamigos Blanco $14

Casamigos Reposado $16

Casa Dragones $60

Don Julio 1942 $40

Don Julio Silver $14

Don Julio Anejo $18

Herradura Silver $14

Herradura Reposado $16

Patron Anejo $18

Patron Platinum $38

Patron Reposado $16

Patron Roca Reposado $18

Patron Silver $14

Patron XO $14

Volcan Blanco $14

Volcan Cristalino $18
Liqueur & Cordial
Aperol $14

Bailey's Irish Cream $14

Benedictine $14

Campari $13

Carpano Antica Formula $15

Carpano Bianco $15

Chambord $14

Chartreuse Green $15

Chartreuse Yellow $15

Cherry Heering $14

Cocchi Americano Red $14

Cocchi Americano $14

Cynar $14

Domaine de Canton Ginger $15

Drambuie $15

Fireball $12

Fernet Branca Menta $14

Fernet Branca $14

Godiva Dark Chocolate $15

Godiva White Chocolate $14

Italicus $14

Lillet Rose $12

Limoncello $14

Liquore Strega $15

Luxardo Amaretto $15

Luxardo Espresso $15

Luxardo Hazelnut $15

Luxardo Maraschino $15

Luxardo Orange $15

Disarrono Amaretto $15

Pimm's No. 1 $14

Ramazotti Amaro $15

Ramazotti Rosato $15

Riserva Speciale Ambrato $16

St. Germain Elderflower $14

Zirbens $14
Happy Hour
Available from 5pm-6pm in the Bar & Lounge
Ferrari Trento Blanc

$12

Ferrari Trento Rose

$12